We handle all rigging for set pieces, design lighting and program same.
12X-Spots
20 Color Changers
36 color changers controlled by Hog console
Massive trussing system and conventional lighting as well.
The Hitachi Hyatt Grand Champions Show
This show was staged at the Hyatt Grand Champions in Palm Desert.
We provided and designed the stage set and all technical items. The stage set is from the MSA rental set inventory. The dome is 16 tall by 27′ wide unit. It is covered by a white leno cloth. There is a 10,000 lumen Christ Digital projector with Quick Time movies projected on to it.
We provided the stage lighting, sound, video equipment.
8 X-Spots
28 Color Changers controlled by Hog console
3 Sony Video Cameras
Grass Valley and Folsom Screen Plus Pro switchers
Beta SP and DV record/playback
Christie Digital L-8 projectors
10.5′ x 14′ Screens
Martin wave 8 Speaker System
Apogee delay and executive front fill system
Yamaha console
6 Sony wireless microphones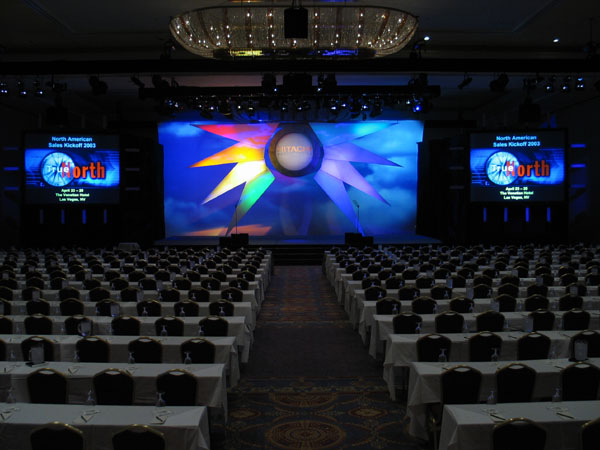 The Hitachi Venetian Hotel Show
Staged at the Venetian Hotel in Las Vegas.
We worked together with Concept Design who provided the stage set. We designed and operated the lighting, sound and video systems.
We provided the stage lighting, sound, video equipment.
8 X-Spots
28 color changers controlled by Hog console.
3 Sony Video Cameras
Grass Valley and Folsom Screen Plus Pro switchers
Beta SP and DV record/playback
Christie Digital L-8 projectors
10.5 x 14 Screens.
Martin wave 8 Speaker System
Apogee delay and executive front fill system
Yamaha console
6 Sony wireless microphones