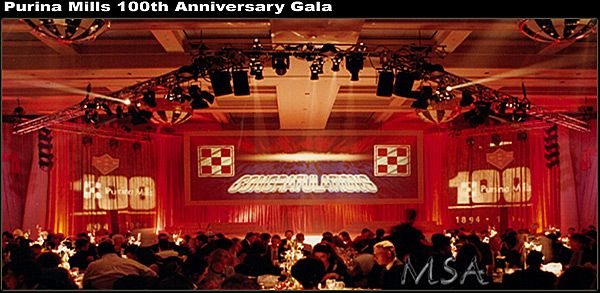 Pictured is the 100 year anniversary show. Screen has staged high so the song and dance troupe could enter from underneath the screen. There was a ramp both front and back of the stage. The front ramp was carpeted with the checkboard and each cell of the checkers was lit. This is our oldest client. We have entered our 20th year of providing technical solutions and services.
This client we do everything technically for four different type shows a year they are:
CHC Incentive Conference
National Sales Conference
2 Team Quests Incentive Programs
We designed the set, stage lighting, sound, and video.
We provided the stage lighting, sound, video equipment as well:
8 X-Spots
12 Color Changers
28 color changers controlled by Hog console
3 Sony Video Cameras
Grass Valley switcher
Folsom switcher
Beta SP record/playback
Christie Digital L-8 projectors
15 x 20 Screens
NATIONAL SALES:
We handle 11 breakout rooms with 1 projector, screen both computer and video playback, sound system, and lighting in each.
Martin wave 8 Speaker System
Apogee delay and executive front fill system
Midas console
6 Sony wireless microphones
Complete on-stage monitoring system for national touring act for final night entertainment.
Purina Maui 2003 CHC Incentive Meeting
20 year client for MSA. We designed the entire technical production along with all staging elements. This included a General Session/Awards room, an outdoor final night luau, and 8 breakout sessions.
15 x 20 Screens with Christie Digital L-8 Projection
Sony D-35 Cameras
Folsom 1202 Switching system
Beta Sp Playback and Record
VeDos Sound System
12 X-Spots
12 Studio Colors
24 Color changers
48 Source Four Pars
16 Source Four Lekos
Hog Control
1.3 DPL projectors, Christie Digital L-6 Projector for breakout rooms.
Purina Mills CHC Incentive Meeting
We staged this meeting in Baniff Springs Canada. Stage set is from the MSA rental stock. It is a mixture of our Shub panels and the glass bricks. The Shub panels are a square tube stock 4′ high frame with spandex stretched over them. These 4′ and 2′ sections are stacked and bolted on top of each other making a total height of 18′
8 Cyberlights,
18 color changers
Controlled by Hog console
2 Sony Video Cameras
Folsom Screen Pro switcher
Beta SP playback and DV record
10,000 lumen Christy Digital projector
12 x 16 Screen
Martin Speaker System
Apogee delay and executive front fill system
Midas console
6 Sony wireless microphones

Purina Mills New Product roll out
We worked together with Purina is designing this touring product display. The different venues include horse shows, sales meetings in ballroom at various hotels, trade fairs, The system is designed to pack up with two people and store in the pictured trailer. System includes three roll out 36″ flat screen TV cases.
These cases have a scissor lift to elevate the TV to any height up to 7′ high. Included in the case is the pre-wired playback DVD/VHS system. Two speakers on stand with internally powered amplifier, CD, and wireless mic for presentation purposes.
Trussing system is flexible in height from 8′ to 12′. The width is also flexible from 8′ to 20′ square.